Alzheimer's and Dementia Home Care
Choose a Home Care Agency Trained in Alzheimer's and Dementia care
At IncrediCare, our staff is trained to provide exceptional care for our clients that have dementia. We take steps to keep our clients engaged in mind, body, and spirit by keeping the body active through low-impact exercises, stimulating the mind with exercises to prompt memory, and performing meaningful activities.
Sundowning can be a difficult reality of dementia. Our staff is well-versed on monitoring for signs and symptoms of sundowning and is trained in how to deal with this situation.

IncrediCare is Dementia Live® Certified. Dementia Live is an experience that immerses participants in what life might be like living with cognitive impairment and sensory change.
Utilizing specialized gear that simulates dementia-specific changes that include altered eyesight, hearing, and tactile sensation, this safe experience is a powerful and effective tool to strengthen care partner understanding of and empathy for residents.
Gaining a first-hand understanding of anxiety, isolation, frustration, confusion, and more, Dementia Live uniquely walks participants from the "AHA" moment to empowering care partners with tools to improve communication, care processes, relationship building, and the environment.
How Can Home Care Help with Alzheimer's and Dementia?
Having a loved one diagnosed with Alzheimer's disease (AD) or dementia can be overwhelming. Just thinking about the caregiving road ahead may fill you with fear and uncertainty.
As you come to grips with an Alzheimer's or other dementia diagnosis, you may be dealing with a whole range of emotions and concerns, along with your loved one. You'll no doubt be worried about how they will change as their prognosis progresses, how you'll keep him or her comfortable, and how much your life will change along with theirs.
Your loved one will likely be experiencing symptoms in stages; they may be experiencing grief, shock, forgetfulness, anger, agitation, or sundowning. Adjusting to this new reality is not easy, and it is important to give yourself some time to adjust to your new circumstances and to reach out for help. The more support you have, the better you will be able to help your loved one.
Each day may bring different challenges. Learning about Alzheimer's and dementia can help you understand and cope with these challenges. It is important to note that you are not alone in caring for the AD or dementia patient. Whether you need information about caregiving for the early, middle, and late stages of Alzheimer's, or you need supplementary or full-time care for your loved one with AD or dementia, IncrediCare is here to help.
If your loved one is living with the effects of Alzheimer's, or other forms of dementia, it can take a tremendous toll on your own physical and emotional well-being. We understand the unique challenges that Alzheimer's, and other forms of dementia present to family caregivers, and their loved ones. The professional caregivers we send to our clients' homes are patient, respectful, and compassionate.
In-home caregivers or senior home caregivers from IncrediCare provide care and assistance through all stages of Alzheimer's and dementia.
In fact, very few individuals ever need to be placed in a facility environment as long as there is a qualified caregiver providing essential in-home care. Most people mistakenly think that one on one care at home is too expensive, when it actually is a very cost-effective alternative to facility-based care.
Providing exceptional Alzheimer's & Dementia Home Care for seniors and families in Northern Virginia area including Arlington, Alexandria, McLean, Reston, Burke, Ashburn, Centreville, Springfield, and Oakton.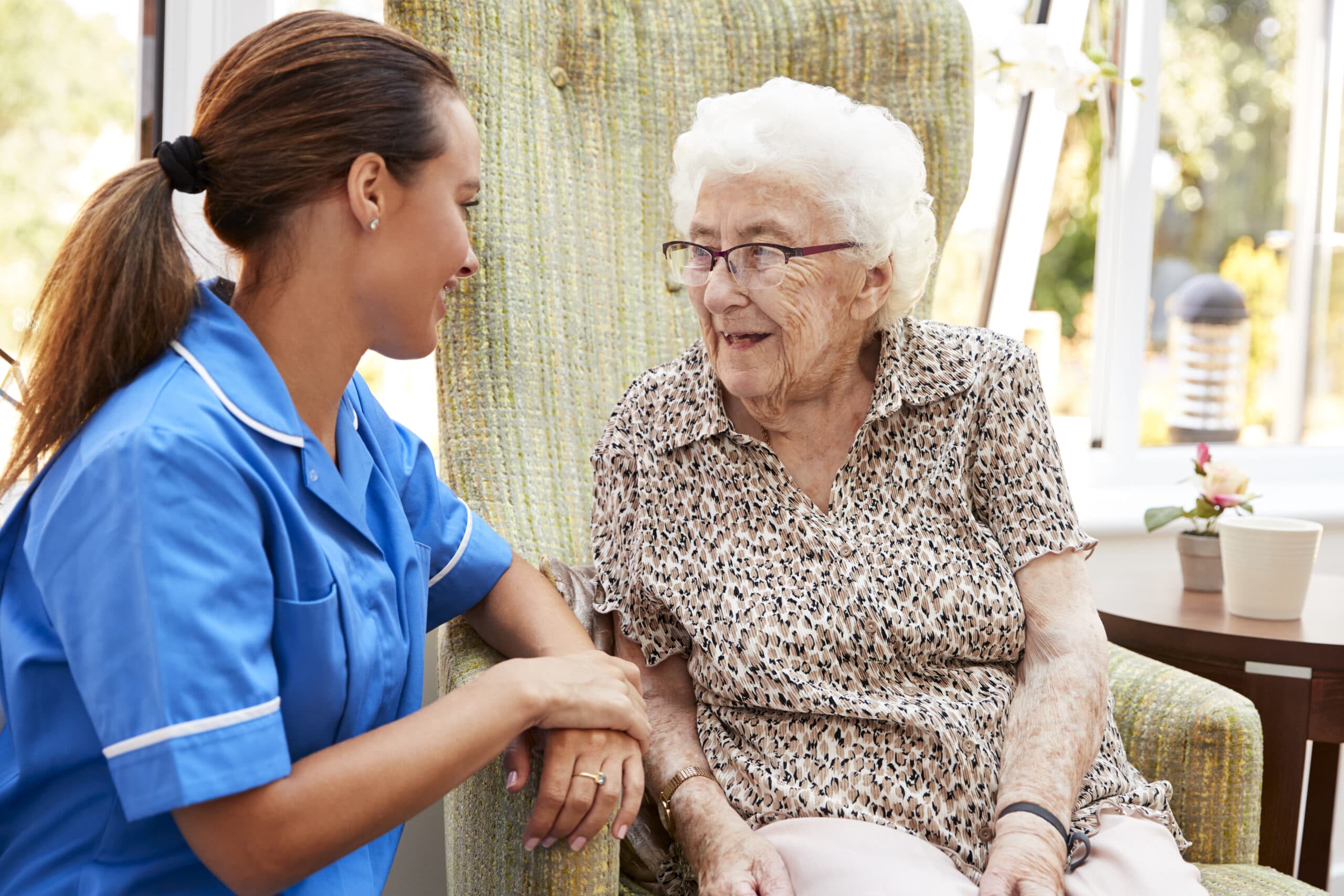 When is Alzheimer's In-Home Care Needed?
If an individual has dementia, memory impairment, or is disoriented to the degree that they pose a risk to themselves or others, they need in-home care and supervision to ensure their safety.
When minimal personal care and mobility assistance is required, an available spouse, family member, or friend may supervise their safety and provide necessary prompting and assistance.
When a spouse, family member, or friend is unable to be onsite, or the care needs are significant, consider obtaining the services of a qualified professional caregiver.
Many families have trouble accepting that their loved one needs assistance when the cognitive impairment appears to be mild, and they are otherwise in excellent physical condition.
This is an accident waiting to happen. In an emergency, such as a fire from a stove burner that was left on would they know to call the fire department, and exit the home to a safe location? Have they gotten lost? Forget to take their medications, or forget that they took their medications?
Consider what long term care insurance companies do if a claim is filed for cognitive impairment. If a policy holder is cognitively impaired, Long Term Care Insurance companies require no physical disability for the holders to qualify for benefits. If the insurance companies think they need care and are willing to pay for it you should seriously consider in-home care.
Incredicare provides experienced, highly compatible Alzheimer's and dementia caregivers and senior helpers.
Many caregivers are highly experienced with every stage of Alzheimer's and qualified to provide care for mild to severe dementias. Their positive attitudes create a comforting atmosphere that dementia and Alzheimer's clients find reassuring.
Prompting and assisting with daily routines, medications, personal care, social and cognitive activities, keeps clients active, mentally engaged, independent, and secure in their homes.
Our specialized skill at providing highly compatible caregivers experienced with Alzheimer's and dementia care means you can trust Incredicare to make your loved one's life and yours much easier and more enjoyable!
Get started today with one of our dedicated staff and see what IncrediCare services we can provide to your loved ones.
Do Alzheimer's and Dementia Patients Do Better at Home?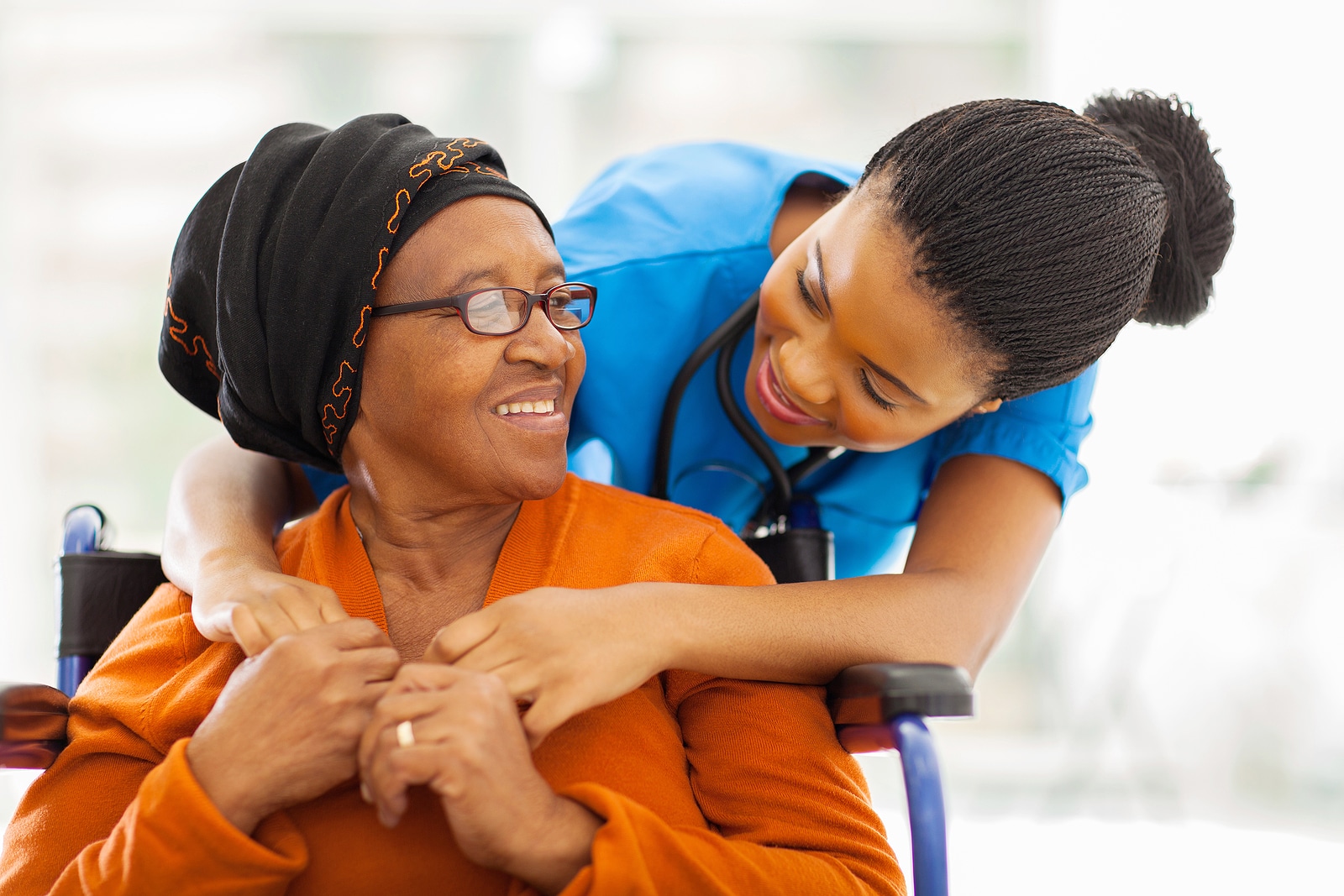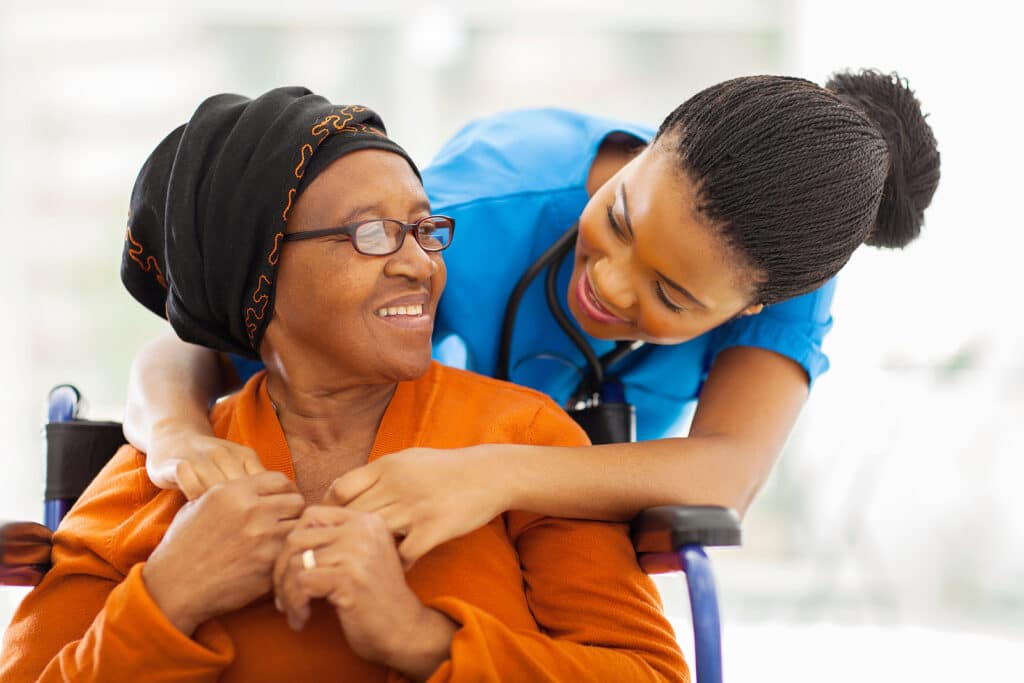 The biggest value in hiring in-home dementia and Alzheimer's caregivers to provide care for an elderly loved one with dementia or chronic health problems, is that it allows them to age in place.
In-Home Dementia Care allows seniors to stay in their own home for as long as possible, before moving on into an assisted living facility or nursing home. Familiar environments offer a great deal of security and peace of mind for individuals with dementia.
Alzheimer's Disease is commonly known as a memory disorder, but it affects your loved one in more ways than just their memories. Along with moments of forgetfulness and confusion, they might experience changes to their personality and emotional well-being. In later stages Alzheimer's patients may also need assistance from caregivers for dressing or bathing themselves among other day-to-day activities like eating.
In-Home care is the first choice for seniors with all types of dementia diagnoses. For those who want to stay in their homes, it is an excellent option, giving seniors and families comfort and the peace of mind they need. Home care also offers assistance for family caregivers by helping them get rest and self-care, to stay healthy and recharge.
Alzheimer's In-Home Care services are beneficial because they allow patients/clients remain where they are comfortable and anxiety levels are decreased.
Specially trained home health aides for dementia patients can be the ideal starting point for families who need extra help with their loved ones but want to prevent or delay placement in a long-term care facility.
Does Medicare Pay for Alzheimer's & Dementia Home Care?
Medicare covers inpatient hospital care and some of the doctors' fees and other medical items for people with Alzheimer's or dementia who are age 65 or older.
Medicare Part D also covers many prescription drugs.
Medicare will pay for up to 100 days of skilled nursing home care under limited circumstances. However, custodial long-term nursing home care is not covered.
Medicare will pay for hospice care delivered in the home, a nursing facility or an inpatient hospice facility for people with dementia who are determined by a doctor to be near the end of life.
Medicare will not cover the cost of non-medical home care (long-term care) in the home. Medicare was designed to cover short-term illnesses and rehabilitation time.
We have the capabilities to meet almost any in-home care service request. Click here to learn more about our services.
Our Unique Care Approach to Alzheimer's and Dementia Care
While there is currently no cure for Alzheimer's disease, there is care. At IncrediCare, we believe the right care approach can help your loved one maintain a high quality of life even in the face of memory loss. Staying in the familiar surroundings of home can help seniors with Alzheimer's or dementia feel safe and loved. Having a general daily routine in Alzheimer's and dementia care helps caregiving run smoothly and provides a sense of consistency to the dementia patient.
Our unique approach to Alzheimer's and dementia care:
Helps your loved one remain safe and calm at home
Encourages engagement
Provides nutritious meals
Creates social interaction
Provides mind-stimulating activities
Helps minimize changing behavioral and cognitive symptoms
Honors who the patient was earlier in life
Supports the family
While caring for someone with Alzheimer's disease and dementia can be a challenging journey, the more information, resources, and support you have, the better you can navigate the road ahead and determine the long-term care options that are best suited for you and your loved one.
We love hearing what others say about IncrediCare Home Care. Read our testimonials today!
IncrediCare is a leader in in-home senior health care, serving the Northern Virginia area including Arlington, Alexandria, McLean, Reston, Burke, Ashburn, Centreville, Springfield, and Oakton. Our value to our clients lies in our providing a variety of home health care services and oversight that changes and adjusts as our clients' needs change.
IncrediCare brings over 25 years of providing care management and nursing expertise combined with a proven track record helping 500 individuals and families.
We step in successfully to virtually any care management situation, providing rapid response back-up care and the peace of mind that you and your family are well cared for in comfortable and familiar surroundings. We focus on the goal of keeping our patients out of nursing homes by offering the whole package of excellent care management, skilled nursing, personal care, companion care, and long-term care insurance. Our team of professionally licensed nurses and certified nursing assistants (CNAs) know their clients and care for them based on their unique situations and specific needs.